>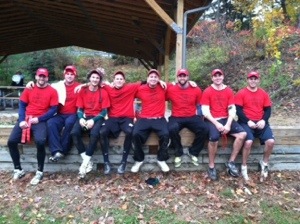 Presented by MARANATHA BIBLE CHURCH ATHLETICS
The 14th annual Flag Football Tournament at Maranatha Bible Church will be held Saturday November 2, 2013.
Sign-In/Payment and Breakfast at 8:30am.
We organize the teams and the food- you bring your A-game!
The price is $15.00/person and includes breakfast, lunch, t-shirt and prizes.
Spectators are welcome! The players will be available for autographs between games and you can eat lunch with your favorite stars, provided at noon!
Accepting the first 125 players. Email your registration information to flagfootball@mbcmi.org by November 1, 2013 or REGISTER BELOW.
Contact flagfootball@mbcmi.org for questions
–Saturday November 2, 8:30am –$15/person for breakfast, lunch, t-shirt, prizes –Spectators welcome for lunch at noon at the church    Message from our "Sponsors": 
MP3 THEME
REGISTER NOW!